More than 160 companies took the pledge.  Where's yours?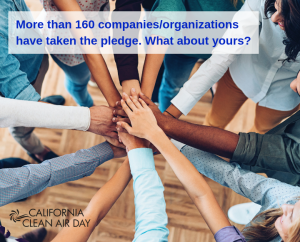 "We pledge to use our platform and resources to educate our employees, our guests and our families to promote Clean Air Day by incorporating actions that make a difference into their daily activities to improve the health of our community. It is our mission and it is our responsibility."
John Marler, Vice President, Energy and Environment, AEG
"The University of California, Center for Environmental Research & Technology looks forward to engaging students, faculty and stakeholders at our Open House on October 3 as part of California Clean Air Day.  We are proud to help raise awareness of this event as a part of our efforts to address society's most pressing environmental challenges in air, energy, and transportation."
Nicole Cleary, deputy Director, CE-CERT
So sign up today. It's easy. It's fun. It's a win for your company.
And of course – thank you for taking the pledge to all the organizations who already committed!
A
Aclima
Adomani
AECOM
AEG
Aetna
Agility Fuel Solutions
Altadena Town Council
American Honda Motor Company
Amgen Tour of California
Anaheim Transportation Network
Antelope Valley Transit Authority
Aquarium of the Pacific
AYSO
Azusa Chamber of Commerce
B
Bay Area AQMD
Believe Design + Built
Big Bear Chamber of Commerce
Bird
BizFed
Blair, Church & Flynn
Bloom Energy
BlueLA
Blue Shield of California
Boom Events LA
Breathe LA
Burbank Transportation Management
BuroHappold Engineering
BYD North America
C
3COTECH, Inc.
Cal State Northridge
Cal Trans District 7
California African American Museum
California Association of School Health Educators
CE-CERT – UC Riverside
CIEDM
Center for Nonprofit Management
Center for Transportation and the Environment (CTE)
Central California Asthma Collaborative
CicLAvia
Citadel Environmental Services, Inc.
City of Foster City
City of Ojai
City of Pomona
City of Rancho Palos Verdes
City of Riverside
City of San Francisco
City of Sand City
City of Santa Cruz
City of Santa Monica
City of Torrance
City of West Hollywood
Clean Energy Fuels
CLEAResult
Climate Action Reserve
Climate Resolve
Climate Registry
Coalition for Clean Air
Comerica Bank
Comite Civico
Copper Q, Inc.
County of Los Angeles
CSUN Sustainability
Cummins Westport
D
Dead Poets Society LLC
Dignity Health
E
East Area Progressive Democrats
East Bay MUD
El Rey Theatre
Electrify America
ESN Group
EVmatch, Inc.
F
FAFCO, Inc.
Fig Asset Capital, LLC
Figueroa Tower Group
Firefly
First Republic Bank
Flix Bus
Fonda Theatre
Foothill Transit
G
GAIN Clean Fuel
George Karbowski & Assoc.
Gladstein, Neandross & Associates
Go Glendale
Goldsmiths Sports inc.
Glenn County Air Pollution Control District
Global Green
Greenberg Glusker
GreenPower Motor Company
Green Sports Alliance
GRID Alternatives
Guess?, Inc.
H
HOK
Hyperion Solar Energy
Hytch Rewards
I
IAP2 USA Greater Los Angeles Chapter
Imperial County Air Pollution Control District
IQ Air
J
J and J Consulting Group
K
Kern Green
Kilroy Realty
Kit Cole Consulting
L
LA Department of Water & Power
LA Kings
L.A. Live
LKG-CMC, Inc.
Los Angeles Convention Center
Los Angeles Metro
Los Angeles World Airports
LA River Communities for Environmental Equity
Lyft
M
Marin County Bicycle Coalition
McCalmont Engineering
Microsoft Theater
Miller Coors
Mojave Desert Air Quality Management District
Monrovia Chamber of Commerce
Motiv
Move LA
MUSE Global
N
North County Transit District
O
Oakland Alameda Coliseum
OCCA-Ojai Citizens for Clean Air
Office of Assemblymember Al Muratsuchi
Office of Assemblymember Autumn Burke
Ojai Valley Insurance Services
Open Sesame
Oracle Arena
P
PACE
Paired Power, Inc.
Pankow Builders
Paramount Pictures
PLANIT NOW, NFP
Port of Long Beach
Porterville Transit
Progressive Voices
Project Clean Air
Promise Energy
R
Rabobank Arena, Theater & Convention Center
Raw Food Meal Planner
RHP Risk Management
Riverside Transit
Ryman Arts
S
San Diego Gas & Electric
San Diego Smog Check
San Luis Obispo County Air Pollution District
SCAG
Scrap Labs, Inc.
Sempra Utilities
SF Environment
Ship & Shore Environmental
Shrine Auditorium
Sierra Madre Chamber of Commerce
Silicon Valley Leadership Group
Simply Soilless
Skid Row Community Clean Up
Social Justice Learning Center
South Beach District 6 Democratic Club of San Francisco
South Coast Air Quality Management
Southern California Edison
Southern California Gas Company
Southern California Public Power Authority
STAPLES Center
Stratiscope
Streetsblog CA
StubHub Center
T
Thrive Market
U
Union of Concerned Scientists
UrbanX Renewables Group
US Hybrid
US Green Building Council
V
Valley View Casino Center
Verdani Partners
W
Waze
Western Riverside Council of Governments
Wingstop
Worthington Schools
WSP/IE Commuter
Y
Yolo-Solano Air Quality Management District