Find us on social media:
California Needs You to Step Up!
Commit and come together to take at least one action on or by #CleanAirDayCA.
Take the individual pledge to challenge yourself to take the actions we know are essential to clean air, like taking transit, shopping local, installing an air monitor and much more. Take the organizational pledge to have your employer or school publicly show their support for clean air.
TAKE THE CLEAN AIR DAY PLEDGE
Here's how California came together for clean air
There are a variety of events across the state and online that you can join, or you can host an event of your own. With Clean Air Fairs, Tree Planting Excursions, EV Test Drives, Community Composting events and more, you're sure to find a new favorite way to celebrate California Clean Air Day.
★    ★    ★    ★    ★    In the News    ★    ★    ★    ★    ★
"Once we start to act, hope is everywhere. So instead of looking for hope, look for action. Then, and only…
We're proud to have had nearly 200 nonprofit partners participate in last year's California Clean Air Day. Although #CleanAirDayCA may…
We want you back! If you are one of the millions of people who moved away from using public transportation…
Your actions matter.
Did you know that California has 7 of the top 10 worst cities for air pollution? Did you know that transportation is the #1 source of that pollution and that our actions play a major role?
Our purchasing habits, driving behaviors and our relationship with food all contribute to whether we have clean air or dirty air in our communities. We can all do our part to change that.

California Clean Air Day is built on the idea that shared experiences unite people to act to improve our community's health. By joining together for a unified day of action, we can create new habits to clear the air for all members of California's diverse communities.
Californians took 7.1M actions to clear the air last year.
Will you be part of the movement this year? Whether you're an individual, business, government agency or nonprofit organization, there are things we all can do to improve air quality and protect public health. In a state with some of the worst air pollution in the United States, it is imperative that we do.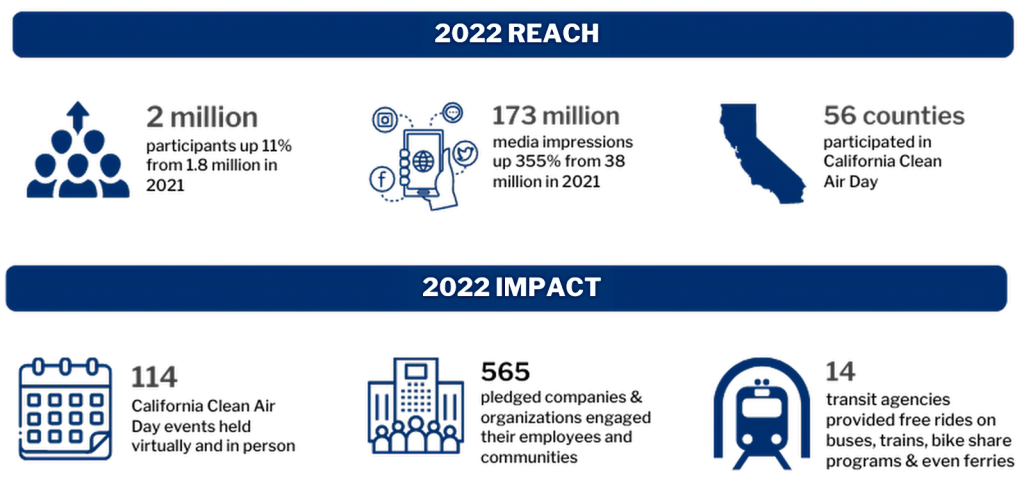 About the Coalition for Clean Air The Coalition for Clean Air (CCA) believes everyone has the right to breathe clean air. Established in 1971, CCA is California's only statewide public interest organization advocating exclusively for improving air quality and preventing climate change. From creating the idea for California's original Smog Check program in 1981 to ensuring the first national ban on the toxic dry cleaning chemical "perc" to helping pass legislation to end the sale of gas-powered cars by 2035, CCA leads the way to socially and environmentally responsible air policies nationally and worldwide.
Today our small but might staff engages in educational programming, informing policy and changing behavior through programs like California Clean Air Day.
Our mission is to protect public health, improve air quality, and prevent climate change.
Find us on social media: