This Information pertains to last year's event – please check back for 2020 updates!
Just because a region of California is beautiful doesn't mean there are not air pollution challenges.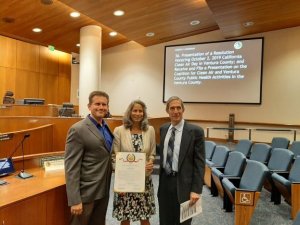 Ventura and Santa Barbara are great examples of this. Areas of the region are challenged by pesticides, near roadway pollution and even container traffic. The good news is that the region is committed to clean air in a big way, with Ventura County passing a resolution recognizing California Clean Air Day. 
Between signing people up to take the Clean Air Day pledge at the Banana Festival to the unveiling of electric vehcile charging station at Cottage Hospital to air quality monitoring education at Hueneme Elementary to tree plantings at CSU Chanel Islands, Cal Lutheran and Moorpoark College, we are celebrating California Clean Air Day in a big way!
We want to thank the Port of Hueneme for their generous support of California Clean Air Day in Ventura and Santa Barbara Counties.
Free Transit
Events
2019 Ventura and Santa Barbara Regional Working Group
Dona Lacayo, Port of Hueneme, CHAIR
Jose Barrera, Port of Hueneme
Christina Birdsey, Port of Hueneme
John Brooks, City of Thousand Oaks
David El Fattal, Ventura County CCD
Martin Erickson, VCTC
Afshin Fatholahi, Cottage Health
Candice Meneghin, Office of Ventura County Supervisor Linda Parks
Linda Parks Ventura County Supervisor
Giles Pettifor, Port of Hueneme
Miguel Rodriguez, Oxnard LULAC
Jackie Ruiz, SBC Public Health
Brian Sheridan, Coalition for Clean Air
Jesus Torres, Lead Public Strategies
Jens Uwe-Kuhn, Santa Barbara City College